联系方式
邮箱:tianweiming@hit.edu.cn
个人简介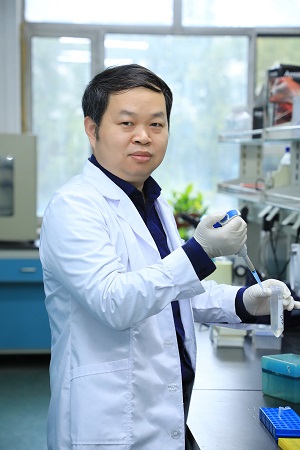 1994-1998年:山东师范大学 生物学学士

1998-2001年:南京工业大学 材料学硕士
2001-2005年:清华大学 材料科学与工程学博士
2005-2008年:美国耶鲁大学医学院 生物医学工程学博士后

2009-2014年:哈尔滨工业大学 副教授
2014-至今: 哈尔滨工业大学 教授
研究方向和领域
生物医学工程
Biomedical Engineering
生物材料与组织工程
Biomaterials and Tissue Engineering
空间生命科学
Space Biology
研究内容
生物材料与组织工程:研究生物活性水凝胶在组织修复和疾病治疗中的应用研究,转录因子klf7的生物学功能研究和纳米模拟应用研究。
Biomaterials and Tissue Engineering:To study the application of bioactive hydrogels in tissue repair and disease treatment, the biological function of transcription factor KLF7 and the application of nano simulation.
空间生命科学:研究空间环境因素弱磁、微重力和辐射等对生命体的影响规律和机制研究。
Space Biology:Study the influence and mechanism of space environmental factors such as weak magnetism, microgravity and radiation on life.
研究成果
1. Juzhi Zhao #, Ruiqi Wang #,JinyuZhang #,YufangZhao,ShupeiQiao,Thomas Crouzier, HongjiYan* and Weiming Tian*. A novel 4D cell culture mimicking stomach peristalsis altered gastriccancer spheroids growth and malignance. Biofabrication13(2021)035034
2. Evgeny Kozhevnikov #, Shupei Qiao #, Wei Yan, Yufang Zhao, Xiaolu Hou, Alaka Acharya, Yijun Shen, Hui Tian, Haijiao Zhang, Xiongbiao Chen, Yuanchuan Zheng, Hongji Yan, Mian Guo*, and Weiming Tian*. A dual-transduction-integrated biosensing system to examine the 3D cell-culture for bone regeneration. Biosensors and Bioelectronics, 2019: 111481.
3. Yufang Zhao #, Shupei Qiao #, Xiaolu Hou, Hui Tian, Shuai Deng, Kangruo Ye, Yongzhan Nie, Xiongbiao Chen, Hongji Yan, Weiming Tian*. Bioengineered tumor microenvironments with naked mole rats high-molecular-weight hyaluronan induces apoptosis in breast cancer cells. Oncogene, 2019: 1.
4. Shupei Qiao #, Yi Liu #, Fengtong Han, Mian Guo, Xiaolu Hou, Kangruo Ye, Shuai Deng, Yijun Shen, Yufang Zhao, Haiying Wei, Bing Song, Lifen Yao*, Weiming Tian*. An intelligent neural stem cell delivery system for neurodegenerative diseases treatment. Advanced healthcare materials, 2018, 7(12): 1800080
5. Yufang Zhao #, Shupei Qiao #, Shuliang Shi, Lifen Yao, Xiaolu Hou, Chunfeng Li, Feng-Huei Lin, Kai Guo, Alaka Acharya, Xiongbiao Chen, Yongzhan Nie, Weiming Tian*. Modulating Three-Dimensional Microenvironment with Hyaluronan of Different Molecular Weights Alters Breast Cancer Cell Invasion Behavior. ACS applied materials & interfaces, 2017, 9(11): 9327-9338.
6. Shupei Qiao #, Yufang Zhao #, Chunfeng Li #, Yanbin Yin, Qingyuan Meng, Fenghui Lin, Yi Liu, Xiaolu Hou, Kai Guo, Xiong-biao Chen, Wei-ming Tian*. An alginate-based platform for cancer stem cell research. Acta biomaterialia, 2016, 37: 83-92.
开设的课程
组织工程技术
The Technique of Tissue Engineering
组织工程与人工器官
Tissue Engineering and Artificial Organ
生物化学
Biochemistry


教师个人主页链接
http://homepage.hit.edu.cn/tianweiming