高艳光 副教授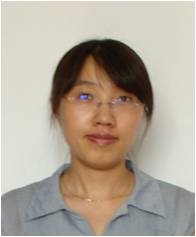 专业 细胞生物学
电话 0451-86403192
传真 0451-86402692
通讯地址 黑龙江省哈尔滨市西大直街92号哈尔滨工业大学437信箱 邮编150001
简历
1997-2001 东北师范大学生命科学院获理学学士学位
2001-2006 东北师范大学遗传与细胞研究所细胞生物学专业获理学博士学位
2006-2009 哈尔滨工业大学理学院生命科学与工程系讲师
2009-至今 哈尔滨工业大学理学院生命科学与工程系副教授
教学工作:承担本科《细胞生物学》、《细胞生物学实验》和《细胞工程》的教学工作及研究生课程《组织工程和人工器官》的教学工作
主要科研方向:纳米药物载体材料生物相容性的研究
发表文章
1. ChunMei Zhang, Yan Liu, YanGuang Gao, Jian Shen, Sheng Zheng, Min Wei, XianLu Zeng. Modified heparins inhibit integrin alpha IIb beta 3 mediated adhesion of melanoma cells to platelets in vitro and in vivo. Int J Cancer 2009, 125(9): 2058-2065.
2. Donghui Mi, Yanguang Gao, Sheng Zhen, Xueqing Ba, Xianlu Zeng. Inhibitory effects of chemically modified heparin on the P-selectin-mediated adhesion of breast cancer cells in vitro. Mol Med Rep 2009 2(2): 301-306.
3. LuYu,Yanguang Gao,Hua Fu,Meng Liu,Shaoqin Liu,Zhifei Dai. Preparation and Characterization of Novel Anticoagulant Iron Heparin Nanopariticles.Chin Pharm J 2008,43(20), 1535-1538.
4. Lu Yu, Yanguang Gao, Xiuli Yue, Shaoqin Liu and Zhifei Dai. Novel Hollow Microcapsules Based on Iron8722;Heparin Complex Multilayers. Langmuir, 2008, 24 (23), 13723-13729
5. Rui Fei, Yu Fei, Sheng Zheng, Yanguang Gao, Hongxia Sun, Xianlu Zeng. Purified polysaccharide from Ginkgo biloba leaves inhibits P-selectin-mediated leucocyte adhesion and inflammation. Acta Pharmacol Sin. 2008 Apr;29(4):499-506.
6. Yanguang Gao Min Wei, Sheng Zheng, Xueqing Ba, Shui Hao, Xianlu Zeng. Chemically modified heparin inhibits the adhesion of nonsmall cell lung cancer cells to P-selectin. J Cancer Res Clin 2006, 132(4):257-264
7. Yanguang Gao, Na Li, Rui Fei, Zhihong Chen, Sheng Zheng, Xianlu Zeng. P-selectin-mediated acute inflammation can be blocked by chemically modified heparin, RO-heparin.Mol. Cells. 2005, 19(3):350-355.
8. Xueqing Ba, Cuixia Chen, Ting Xu, Lingling Cui,Yanguang Gao, and Xianlu Zeng. Engagement of PSGL-1 upregulates CSF-1 transcription via a mechanism that may involve Syk. Cell Immunol,2005,237(1):1-6.
9. Min Wei, Yanguang Gao, Meihong Tian, Na Li, Shui Hao, and Xianlu Zeng.Selectively desulfated heparin inhibits P-selectin-mediated adhesion of human melanoma cells. Cancer Lett, 2005, 229(1):123-126
10. Xueqing Ba, Cuixia Chen, Yanguang Gao, and Xianlu Zeng. Signaling Function of PSGL-1 in Neutrophil: Tyrosine- phosphorylation-dependent and c-Abl-involved Alteration in the F-actin-based Cytoskeleton. J Cell Biochem, 2005, 94: 265-273
11. Min Wei, Guihua Tai, Yanguang Gao, Na Li, Baiqu Huang, Yifa Zhou, Shui Hao, and Xianlu Zeng. Modifed heparin inhibits P-selectin-mediated cell adhesion of human colon carcinoma cells to immobilized platelets under dynamic flow conditions. J Biol Chem, 2004, 279(28): 29202-29210